Today's featured artist is Caitlin Gallivan-Gaertner. While she's been shooting weddings with her husband for several years, she just recently left her job in social work to pursue family photojournalism full-time. You can see more of Caitlin's work on her website, Facebook, and Instagram. Here is what she had to say to our contributors: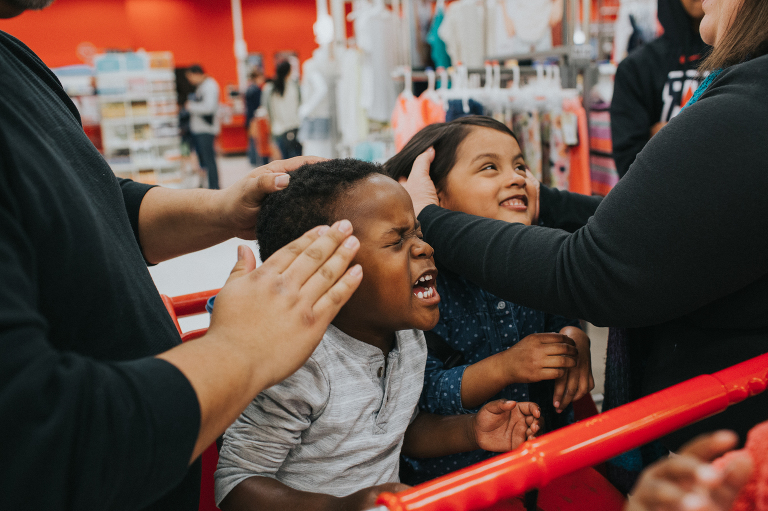 Jenny: I love your work Caitlin. Your families all seem so relaxed in front of the camera and happy to go about their daily lives. How long do you spend with the families shooting? Are these from day in the life sessions, or shorter? Do you ever shoot older children? And if so, do you use a different approach to shooting them than that of younger ones?
By far, the best work I've ever done is from a full day in the life. That's how I prefer to work because it gives me time to build rapport with the family. After a few hours, they hardly notice I have a camera in hand which allows me to get really honest candids. A day in the life is around 12 hours, so I arrive at around 7am and leave at around 7pm. It's always wonderful when you can take an image that can stand alone, but the full story is much more important to me than a single image.
I do work with older kids, but it's a very different feeling. With younger kids, I am goofy and more energetic, but with older kids I am more subdued and calm. I think the largest challenge with older kids is that they are more used to having their photo taken and know the expectations that usually come with that. Some are more camera shy, while others tend to instinctively "pose" for me. It's harder to get their real personality to come through. I think the key is to build a relationship with them. If they trust me, I am more likely to get a photo of them that I love.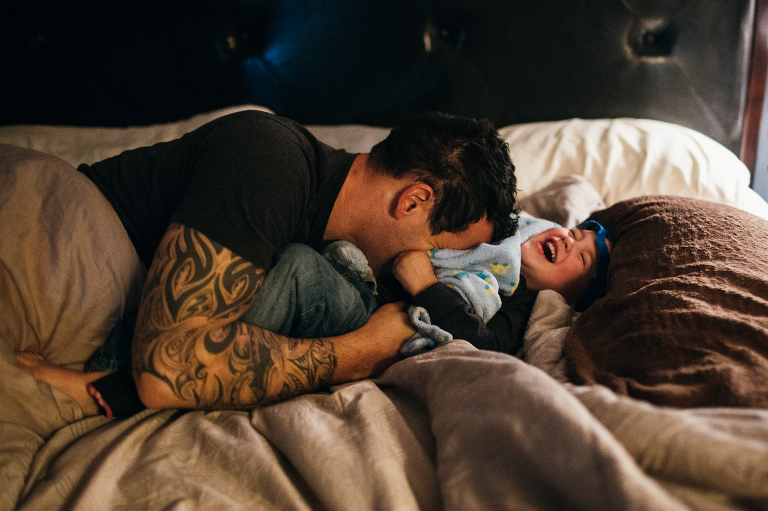 Felicia: Thank you for sharing your thoughts on what this genre and what it means to you. As an introvert, what are your challenges about working with this approach? What are some of the most trying situations that you have come up against because of your personality as an introvert? When that happens in the field, how do you confront that challenge and work past it?
For me, as an introvert, working in this way is the most comfortable. I think posed family photos require a lot more direction and "false interaction" where I am trying to elicit a smile rather than it just happening all on its own. When I started shooting in this way, I found the need to interfere was gone, and I just got to dive deeper into my own creativity. It's the best!
I think we are all trying to balance the desire to push ourselves into areas outside our comfort zone and the desire to go with what feels right. With family photojournalism, I went with what felt right and built on my strengths rather than trying to overcome my introverted nature. In many ways, being invisible is more of a strength with this type of photography.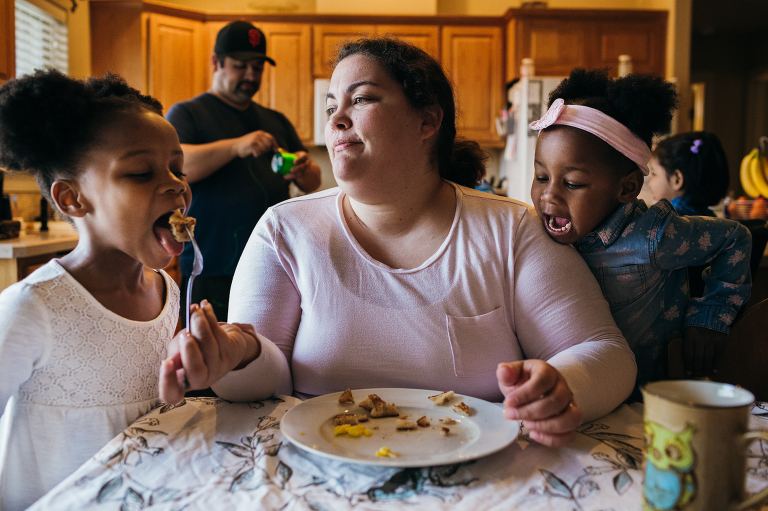 Erika: In your write up you talk a lot about how children seem to guide your sessions and that appears very evident in your work. Your camera not only is frequently focused on the child(ren) but seems to take on their life perspective as well. Have you come across a child who was excessively shy or overly excited about the camera and perhaps made it a challenge to connect with them in a more personal way? How do you go about trying to meet more challenging kids in the middle to make honest photos?
This is a constant challenge, and doesn't come up as much with younger kids because they are still new to the awareness of cameras. I have had a few situations where a kid wanted nothing to do with me or my camera, but it was usually in situations where I was trying to pose them (usually a day in the life will involve at least one formal portrait for the Christmas card). When a child is really struggling to feel comfortable with me, I put my camera down and ask them to show me their favorite place, or their favorite toy. I talk with them and play with them until I feel that they are comfortable with me. Often times, I have to go back and do the same thing several times in a shoot. Put the camera down, talk with them, ask them questions. I find if I genuinely care about what's important to them, they will open up to me and my camera.
One thing I've learned is that if I resist in any way what the child is doing, the child will resist me even more. So I try to make everything okay. Being shy is okay, being excited is okay. It's all part of the story.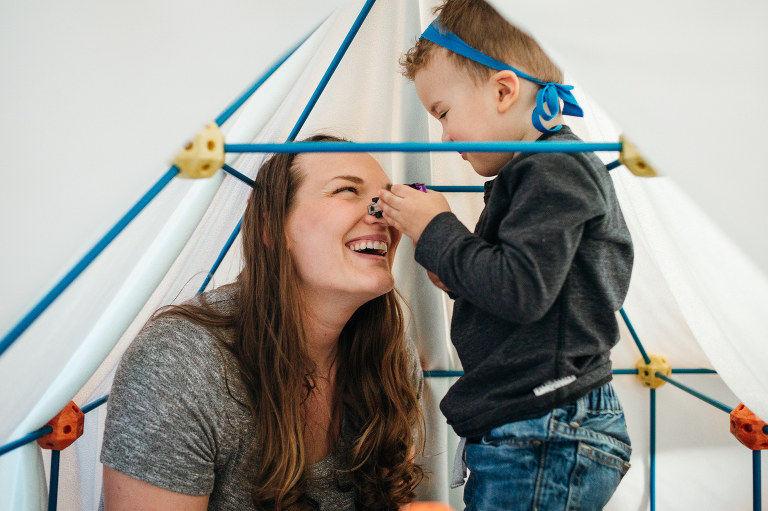 Robin: Do you feel like your background in social work helps or has influence the way you document families?
YES. My work with domestic violence survivors helped me see and appreciate the infinite ways in which love shows up in our lives. I was, and still am, incredibly inspired by the ability of mothers to protect and love their children, even in the most difficult situations. That immense respect and appreciation that I developed while working in the anti-violence movement informs my work as a photographer every day.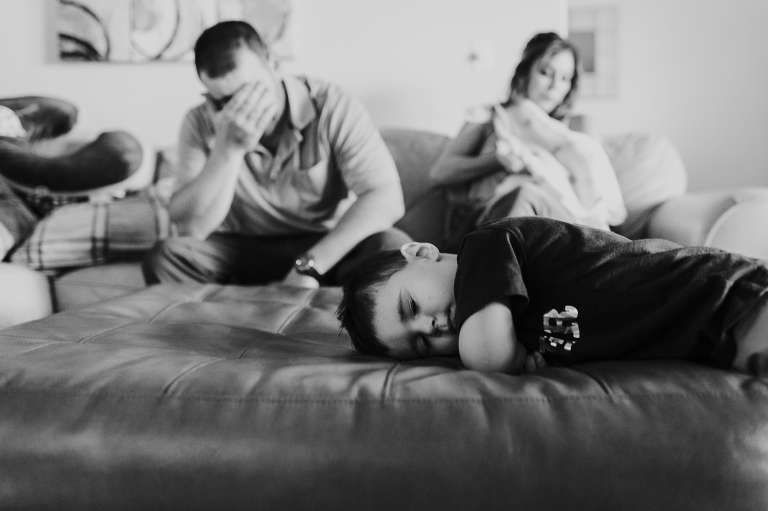 Lisa: Are you more drawn to a particular type of moment over another (quiet vs loud)? How does this affect the way you tell a family's story?
I wouldn't say I am more drawn to a certain type of moment. Family life is really a full spectrum, and I love every part. The one line that connects every part of the story is love, and I am fascinated by love it in all its forms.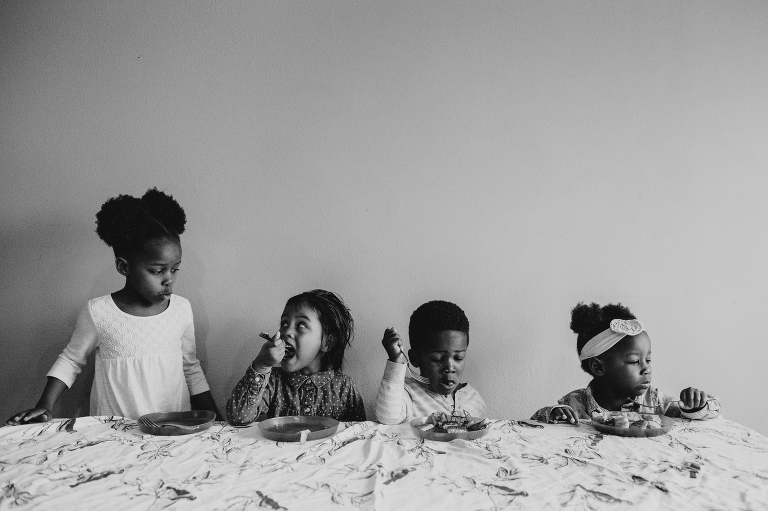 Celina: So many of your photos seem to be out and about. Are these taken during a day in the life type of sessions or do you typically go out with families even on shorter sessions? If so, how do you keep your clients feel at ease in public?
Most documentary photographers can probably relate to the difficulty of shooting inside a home. The lighting is often tough, so a large portion of my submitted photos were out and about. I usually encourage families to plan an outing during their day in the life session because I think it creates a more compelling story. Taking your kids out of the house is stressful, fun and chaotic. I love to see all of that happen!
I usually encourage clients to plan their outing for the afternoon. By that point, they are used to having me around. I keep a low profile when I am out working. Just one camera around my neck and no extra lenses. I think most people assume I am just a family member taking snapshots. Since I am not directing anything, or saying much, most families don't seem to be uneasy with me following them around in public.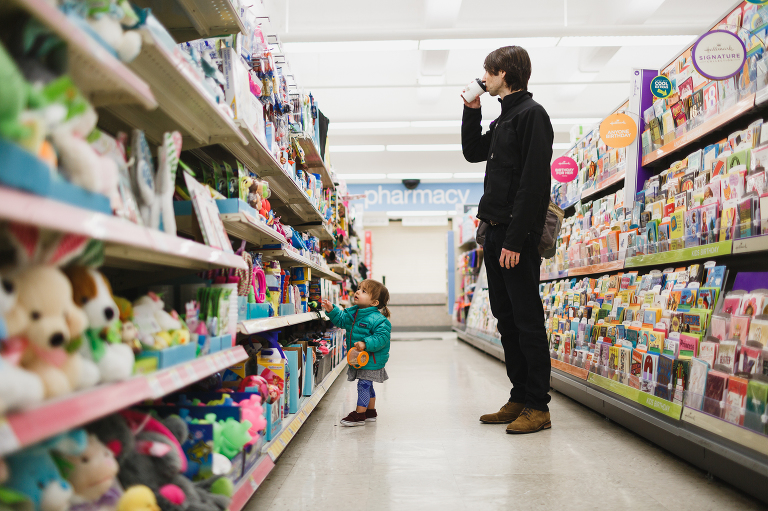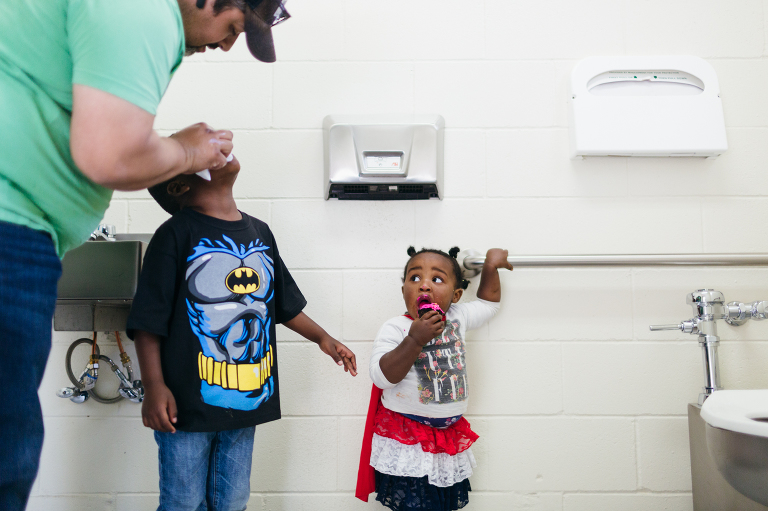 *****
Want information on how you can be a featured artist? Check out our submission page for all the details.