We loved this busy, raw, and emotional documentary session featuring a family of 6 sent to us by Julia Erz. She is a documentary family photographer in Germany. Julia has two kids of her own and a masters in psychology which can only assist in her ability to understand and empathize with the children she photographs and anticipate their behavior. You can check out more of Julia's work on her website, Facebook page, and Instagram.
Here is what Julia had to say to our contributors: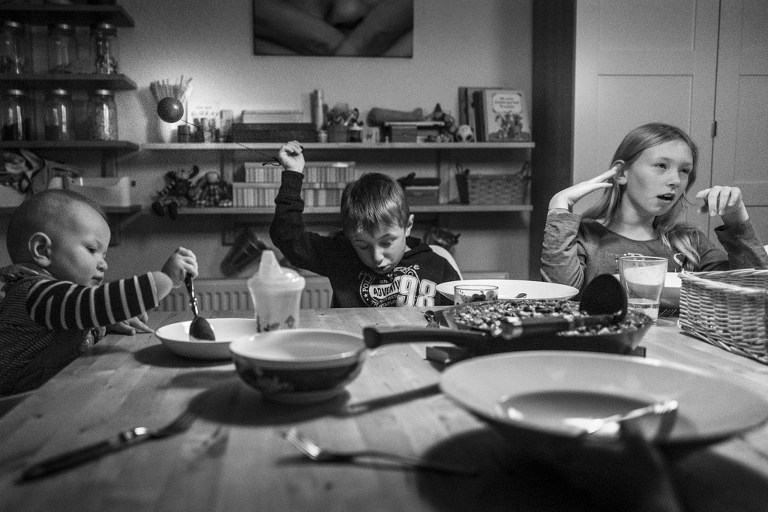 Chrystal: I love how honest these moments are. Sometimes I feel my documentary clients are still looking for pretty, perfect moments even though it's a Day in the Life session. Is this true for some of your clients too? How do you make sure to find clients that would love an image of nose picking? I think it's so perfect and wonderful but worry the client may not.
Well, the families see the photos on my homepage (www.juliaerz.com), my Instagram (https://www.instagram.com/juliaerzphoto/) and Facebook (https://de-de.facebook.com/JuliaErzPhotography/). I think they know that I show "real" pictures rather than aesthetic ones, which demonstrate the daily life and routine. It's clear to me that not all families want these authentic pictures, but that's totally fine.
In a while, these pictures will be of great sentimental value. Kids are growing up so fast and there'll be a time when we miss the moments when we told them not to pick their nose, when we were annoyed or the intimate cuddles with them. How wonderful will it be to dig out these photos from "a day in the life" from the past and just reminisce…
I'm also aware that these family portrait sessions require a massive amount of trust. For the most part, there'll be a bit of tension and shyness at the beginning, but – and I speak from experience – these will cease after half an hour and the family will feel comfortable to do what they normally do. When it's time to say goodbye, the parents are super excited about how relaxed their day was. I also notice that the kids are able to their thing free of any reservations, without having to pose and smile into a random camera. It really is much easier than the family thinks. It's just so much fun!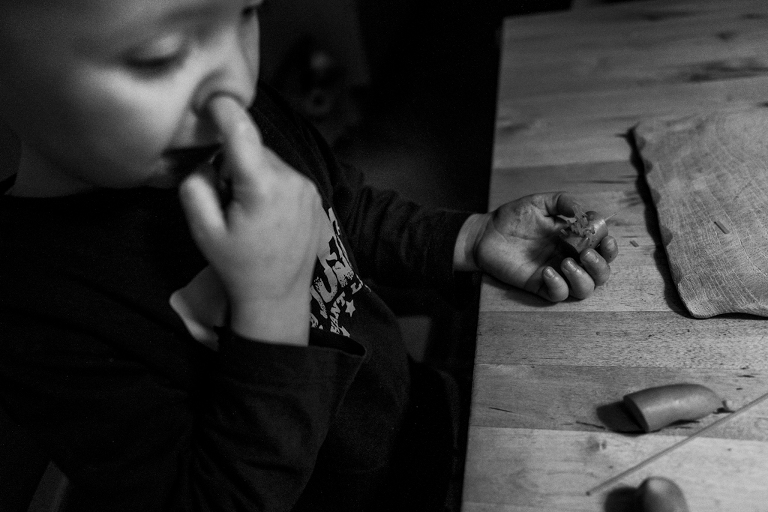 Aniya: Julia, it's no secret I'm a huge fan of your work. You seem to be able to get access to these families so that they are completely at ease with you. How well do you get to know your clients before the session? Do you send them a questionnaire? What do you do to put your clients at ease so that they are at ease with your presence?
For the most part, I didn't know the families that I have accompanied at all. I do not send a questionnaire before the shooting. I rather make sure in advance that I know their expectations and what they can expect from my type of photography. This is essential to me! If the family is well informed before our session, everything works out just fine.
During our shooting, I'm not the famous fly on the wall. It's quite the contrary – I talk to the parents and kids and keep up the conversation. I'm always happy to get to know new people, find out about their story, hobbies and everything else.
My primary day job is being a nurse, but then I decided to add a degree in rehabilitation psychology. I've always been interested in patients' lives and backgrounds rather than what they were diagnosed with. I believe that a natural interest in people is essential for documenting families via photography.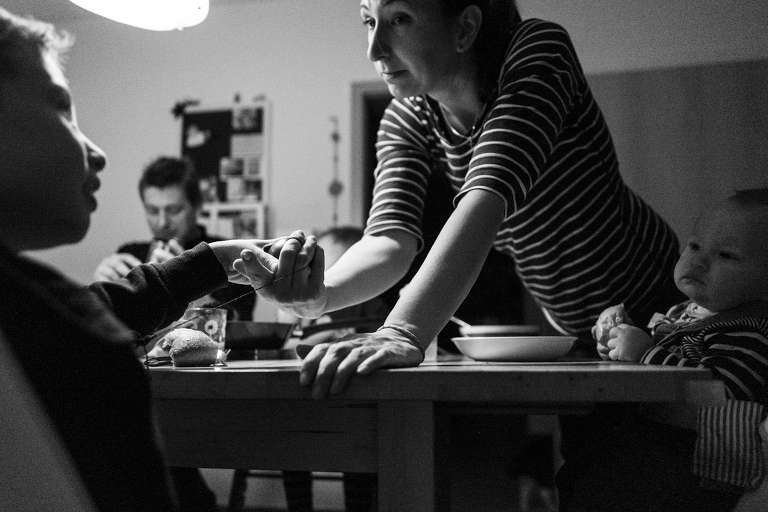 Carrie: Do you think your background in Psychology affects/informs your artistic vision when shooting your family or clients? If so, can you elaborate?
Definitely! But; I've always been a rather empathetic and sensitive individual. I experience situations and personal encounters very intensely. I don't think that it's necessarily linked with my studies in psychology. Just by watching and simply observing people, our surroundings and the lighting, moments unfold, which I would just love to capture with my camera immediately.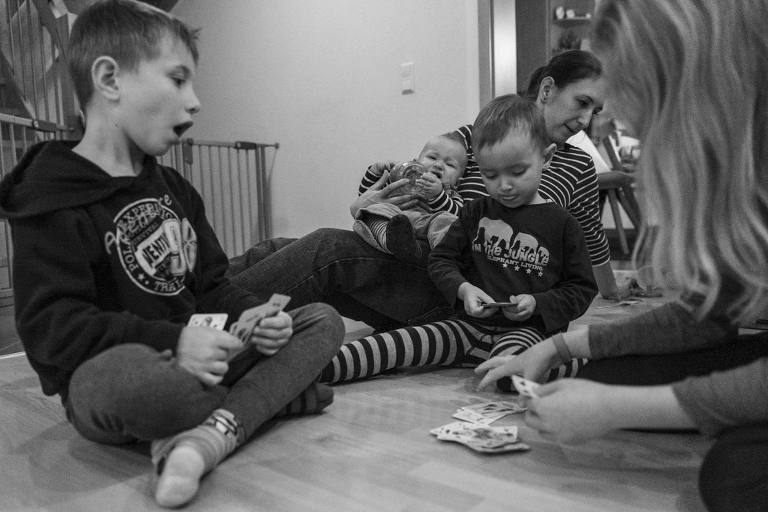 Lisa: With such a large family there must have been so much activity going on at the same time. How did you decide which moments to capture? Did you feel that you needed to choose one moment over another at times?
Honestly, I love big families. There's ALWAYS something going on. Of course, it's hard to literally be at a lot of different places all at once, but I stopped pressuring myself. For me, it's important that the composition, lighting, and moment merge into the perfect picture. Yes, I may miss another moment in this situation, but I'm even more happy about ONE really great photo, where everything is perfect.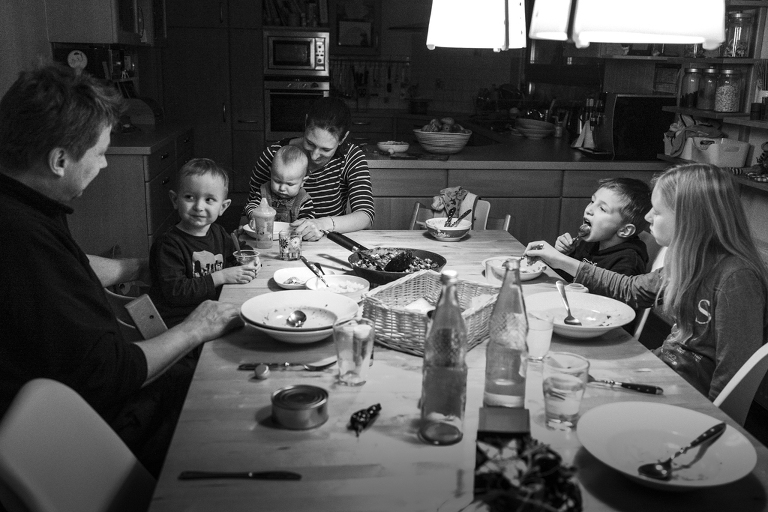 Leslie: What a great set of images. I love your use of b/w. Really allows me to connect with the family. Many times when I'm photographing a family, I have a muse…that one person who draws me for a great deal of the session. Do you find yourself doing this as well? If so, who was your muse during this session?
Yes, sure. I definitely have a muse during every family portrait session; however, most of the time I do realize that I'm taking too many photos of this muse and will make sure to get the other family members into the picture as well.
But during this season with a family of six, there was a balance from the beginning. All four kids have COMPLETELY different personalities and manners, which made it extremely exciting for me. If I had to pick a muse, it'd have to be the second youngest boy who was picking his nose.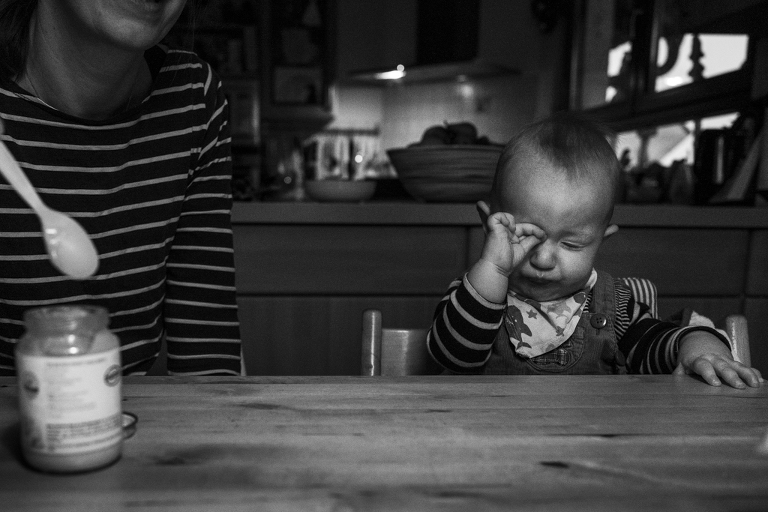 Michelle: The documentary family photography movement is growing in the U.S. but, outside of large metro areas, it is definitely diffuse. It's still hard to get families to buy into this style of photography. Is this the same in Germany or do you feel that the European mindset toward these kinds of sessions is different from what you understand of that in the U.S.?
Oh, documentational family photography is arriving VERY slowly in Germany. I feel like the US are moving at a faster pace here, also when it comes to the families' attitudes.
People spend money on good wedding photographers, but when it comes to family photos, they are satisfied with photos that were shot in kindergarten (in Germany). That's very sad!
For me, documentational family photography is a luxury. But why not gift your kids something of a more sentimental value (for later on). Kids are being bombarded with material gifts nowadays, so it would be amazing to present them with some family portraits, as a treasure for later.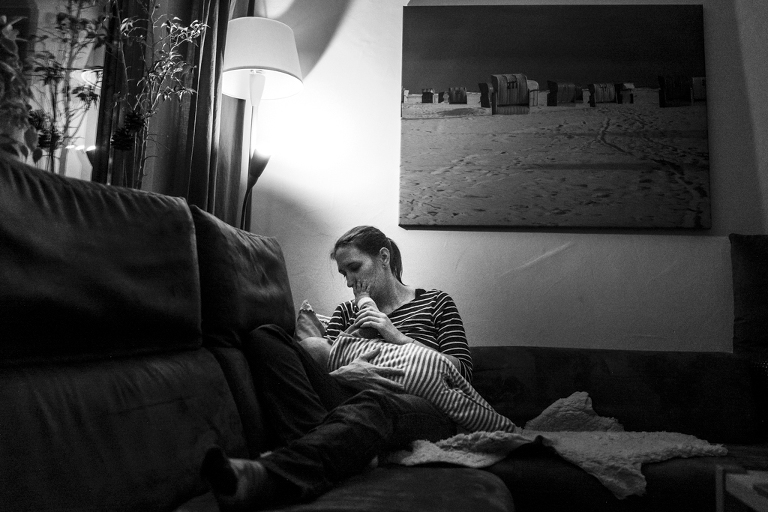 *****
Want information on how you can be a featured artist? Check out our submission page for all the details.