This week we have a critique submitted by Shea Kluender who took this photo of a family in their last few days of being of a family of three before a new baby sister arrived.
This image was shot with a Sony Alpha 7II / 55 mm f/3.5 28-70 and 55 mm f/1.8, and the specs are ISO 500, aperture f/4.5 and shutterspeed 1/200.
Critique today comes from Lisa, Jenny, and Leslie.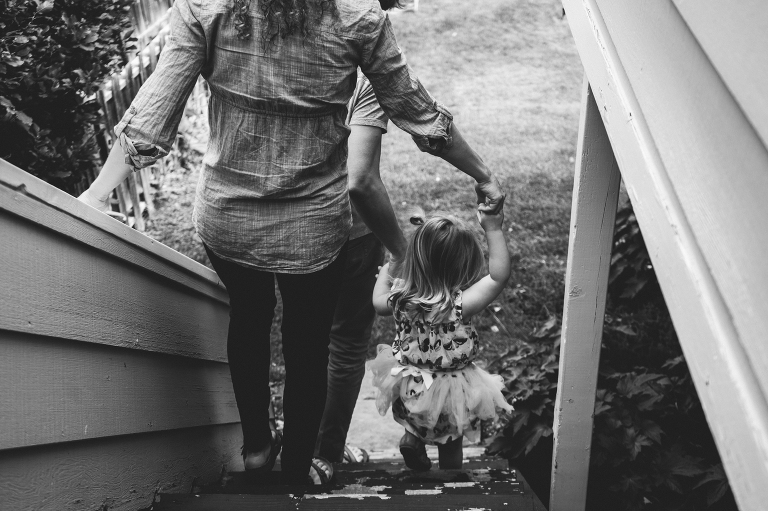 Lisa: It's such an interesting transition to prepare one child for the arrival of another and ensure they don't feel replaced or jealous, etc. I have four children and know exactly how bittersweet it can be. I love that she is holding both mom and dad's hands to walk down the stairs. It tells me that she's the only child at the moment since both parents are helping her. It also tells me how little she is because she still needs help walking down the stairs. I like the angle you shot from as the side of the house and railings create leading lines that take my eye directly to the subjects. I didn't see dad in the frame right away. I wonder what this looks like in color and if the colors of dad's outfit can help to add separation from mom since they are merging here. I also think color may help the family stand out more against the backdrop of the grass. There's also something sticking out of her head and I'm assuming it's her hair but I'm not certain. Another thing that color may help to distinguish.
I can't tell that mom is expecting, so perhaps shoot through this moment until she sort of turns to the side a little and we can see her baby bump. So maybe if you shot from the top of the staircase and waited for the family to reach the bottom of the staircase and walked out towards the grass, there may be more separation between the three of them so we can see mom, dad, child and baby bump. I think showing that baby bump will help the storytelling aspect of this image. Overall, this is a really sweet moment that the family will absolutely cherish. What a great memory to have before the new baby comes. I hope they ask you for another session with the newborn!
Jenny: Awe, this is such a sweet image! I love your perspective of shooting down and from behind. All of the lines are great and I love that the little girl is holding both mom and dad's hands and how their arms are all tangled. I do wish there was a bit more separation though between mom and dad, as dad's arm gets a bit lost here and I didn't notice him at first. Perhaps shooting through here and a moment or two after this one when he reaches the bottom of the stairs would space them out a bit more. If they were down at the bottom of the stairs you would also have a bit more space around them to work with and wouldn't be chopping off their heads. I'm a huge head chopper in my images but I'm unsure if this is intentional or not here. However, it's easy to say all that in hindsight and none of that may have been a possibility. With the image as is, I would be inclined to crop in even tighter, down to mom's elbow, to really emphasise their arms and hand holding. This would also make the head chop look intentional.
The transition from one baby to two is a huge one and definitely one to be celebrated and I love that this family recognised that and booked you for a session to document it. However, due to the angle you've shot this image, I wouldn't have known that mom was pregnant. I'm sure you have plenty of other images from the session where you can see her belly, so I don't think it matters here as you've still captured such a sweet moment between a little girl and her parents when it was just the three of them, and it's definitely one that the family will love. Great work and I can't wait to see the newborn images!
Leslie: Shea, this is beautiful detail shot. As documentary photographers, it's our job to not only tell the families' overall story, but also show the small pieces and moments that make up their life. I think you did a great job illustrating those in this image especially after learning that this mom is expecting.
I love the leading lines and how it's shot down. It does take a little bit of looking around for your eye take in all the elements of the image. For instance, at first, I didn't notice that she was holding Dad's hand, but after I did, it's a sweet surprise to see she's holding both of her parent's hands because it adds emotion and connection to the image.
I tend to prefer b/w, but I think that this image lacks a little contrast and maybe color would help the eye focus and separate one person from another.
Since you have some background on why this moment is special, it helped you to recognize it and capture a something that mom and dad will appreciate and cherish. However, as a viewer seeing it for the first time, I think if you want to convey the full message, it could be done with a stronger image.
Beautiful work, thanks so much for submitting.
*****
Interested in having one of your images critiqued? Check out the submission guidelines.